LAST WEEKEND'S RESULTS NEXT WEEKEND'S GAMESLiga BWin
Sporting CP 4 - 0 Portimonense att 29782
A fairly easy win for Sporting, despite having a man sent off just before half-time. Portimonense drop to 5th place, with twelve points from six games. Still above Sporting though.
Benfica are top, with a 100% record, Braga second, Porto third.
Portimonense's next game is on Friday night, 6th September, at home to Chaves ko 20.15hrs.
Liga Sabseg
Leixões 0 - 1 Farense att 2019 Farense are third, 10 points from six games.
Their next game will be at the wildly popular time of 11.00 on Sunday 17th, at home to Vilafranquense, who are currently second, so important points at stake.
Portugal FA Cup 1st round
Results for the Algarve Teams
Ferreiras 2 - 0 Culatrense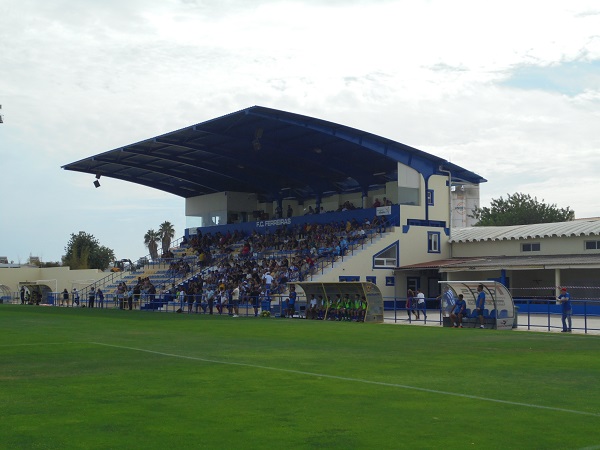 I went to that one. Farense were always on top, the visitors managed to disturb the home side's 'keeper not once. A decent crowd for this level, around 300, saw Ferreiras take an early lead when a good ball from midfield set up João Barbosa, whose strength held off a defender and alllowed him to shoot low and hard. Midway through the first half, visiting defender Nuno Mendonca was sent off for tripping an attacker right on the edge of the area. The free kick was missed, as were several other chances. Ferreiras could easily have been five - nil up at half time.
Here, Culatrense defender Jose Estebainha gets a timely leg in the way.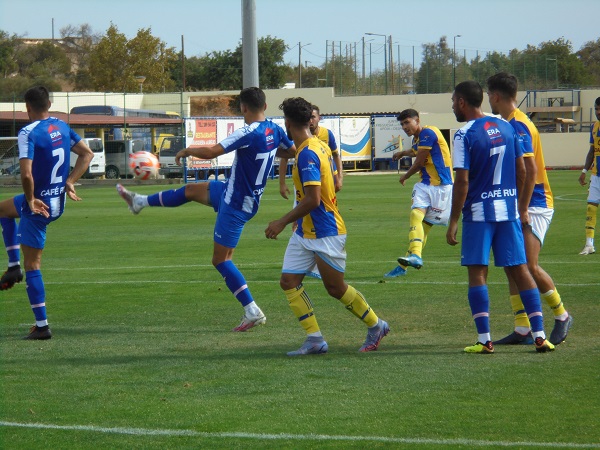 The second goal came on 32 minutes, Tomas Rodrigues heading across goal over the despairing goalkeeper. Whether or not he meant it, I don't know!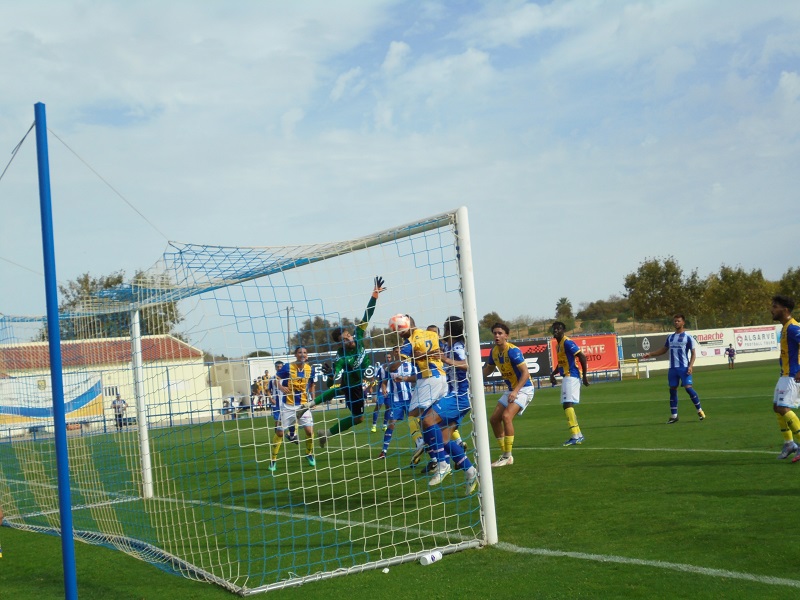 Cultatrense made three substitutions at half time, but that changed nothing. Ferreiras continued to dominate and miss even more chances, Culatrense barely got out of their own half. The last twenty minutes or so was tedious in the extreme!
Lagos 2 - 0 UF Comércio Indústria
Atlético 2 - 5 Olhanense
Juventude Évora 3 - 0 Moncarpachense
Imortal Albufeira and Silves had a bye into round 2 , which is scheduled for the weekend of 1st / 2nd October. Draw in next posted item.
Next weekend's lower league fixtures
Liga 3 South
Saturday 17th September
Moncarapachense v Fc Oliveira Hospital ko 1500hrs / 3pm
Campeonato de Portugal Group D
Sunday 18th September
Ferreiras v SC Praiense ko 11.00am (it's a long way back to the Azores!)
Imortal Albufeira v Vasco da Gama Vidigueira ko 1500hrs
Lagos v Oriental Dragon ko 1500hrs
Olhanense will be away at Juventude Évora.
WOMEN'S FOOTBALL NATIONAL LEAGUE DIVISION TWO SOUTH
Guia 0 - 6 Sporting B
Next Sunday Guia travel to Benfica B.
The Algarve League gets under way on Saturday 24th September. Team list updated.
First Division Teams : season will be played in two phases.
Odiáxere; Culatrense, Os 11 Esperanças, Lagoa, Guia, Internacional Almancil, Louletano, Quarteira SC, Quarteirense, Lusitano VRSA, Silves and Almancil
Second Division Teams , split into two groups east and west. Season will be played in two phases.
Série Barlovento (west)
AEF João Moutinho (new team, playing at Estombar), Carvoeiro United, Lagos B, Os Armacanenses, Bensafrim, Alvor, Portimonense B, Sport Algoz Benfica (new team, playing at Messines), Messinense.
Série Sotavento (east)
4 ao Cubo Olhão, Marítimo Olhanense, Campinense, Paderne, Quarteirense 1937, Farense B, Sport Faro Benfica, Sambrasense
There is still no team based in Tavira.