Vasco da Gama Vidigueira 1 - 1 Imortal
Only a brief report as I was massed behind the goal of this magnifcent stadium.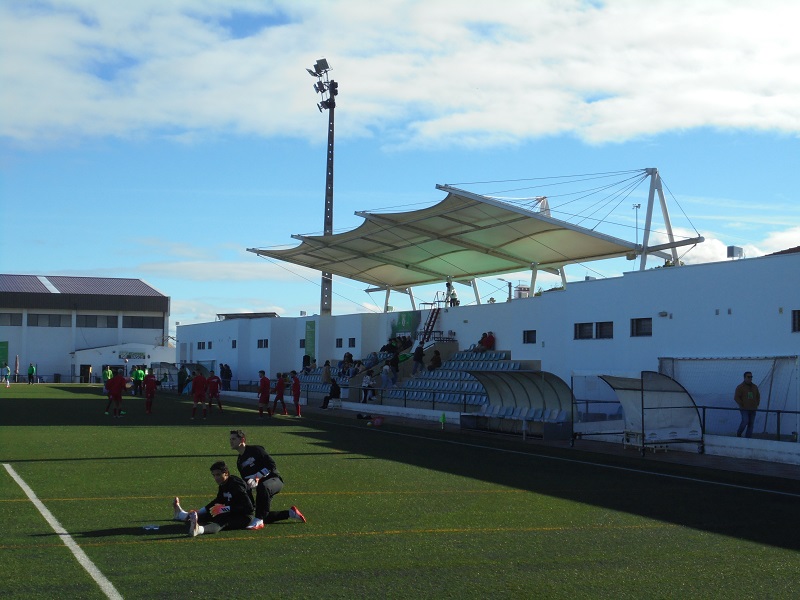 It was sunny (in contrast to the previous day, which was thick fog!), rather windy quite cold and it was an artificial surface. Despite many gallons of water, the ball was bouncing all over the place and the wind was blowing it off course, especially in the second half when the home goalkeeper van der Laan found the seated specators several times.
It was a very quiet first half, very few attempts on goal and not even many free kicks, which made a nice change. The goal that did come put the home side in the lead after six minutes. A good run down the right, a low hard cross which Imortal's defence didn't deal with. The first shot by the huge centre forward Eze was blocked, a scramble ensued and ended with the ball being poked into the net. Given by the FA as an own goal against Imortal's captain Pedro Rodrigues.
The midfield battles were fierce but fair. Torres fashioned a couple of half chances for Imortal which went over or wide, Elvis Odukporo was berated by team mates and coaches for not concentrating, the hosts were wasteful with the two chances they had. Half time 1-0.
The wind was in Imortal's favour for the second half but, as so often happens, it was too strong at times. The tactic of booting it down the field wasn't working. Imortal had the ball, but didn't manage a shot in the opening quarter hour. As so many coaches and managers do, Imortal's made three changes on the hour to try to change things.
Things livened up. Imortal pressed, the home defenders were in trouble at times, giving away free kicks in dangerous places. The locals were getting rather annoyed with the referee giving Imortal so many free kicks. The players also, yellow cards were shown.
Vasco da Gama did have one good counter attack with fifteen minutes remaining which was ended with a wasteful, weak shot to groans from the fans.
Imortal persisted with the long ball approach. Ninety minutes was up. A final long ball to the left wing found Ricardo Ramos, who crossed first time. One of those unfortunate ones where the ball hits a defender's arm when he can do nothing about it. Penalty given. After the customary debate and pleas, up stepped Mario Duarte aka Marocas to blast the penalty home. Big celebration by Imortal in front of the home bench, perhaps not the best place! A bit of a melée followed, a few more yellow cards were dished out. I didn't celebrate. There were about 50 in the bar area right behind where I was standing who had been at it all afternoon and were voicing their opinions.
Kick off and another exchange of views ending with Marocas getting a second yellow and thus sent off. Imortal rode out the final minute safely. I scuttled off to sample the local produce.
Always take a 1-1 draw away from home.
Next up is a home match next Sunday against Praiense from the Azores, with whom Imortal drew 1-1 in the reverse fixture in September. Praiense are 9th, with 18 points. They have not been in good form, seven games without a win until they beat Ferreiras yesterday.
Vidigueira is in the centre of an important wine producing area, located between Beja and Évora, a couple of hours driving from here. Vineyards all over the place and adegas a-plenty. Not perhaps best visited on a foggy, cold and windy January weekend and it's too hot in summer, but worth a couple of days say in June or October.
PS they are called Vasco da Gama as the explorer became the first count of Vidigueira. Apparently he had to pay the Duke of Bragança for the title.