Imortal 2 - 1 Louletano B
Two penalties in the final twenty minutes of the game, both nicely converted by Umaro Baldé, gave Imortal their first points of the season. Overall the game was not particularly good, with some dreadful defending at times by Imortal and the fact that the two penalties were their only shots on target! The lack of a decent striker is an obvious problem.
The day was warm and dry, it was a bit windy at pitch level, parts of which looked a bit rough after some maintenance work.
Both sides started quickly, with half chances at either end. The visitors fielded a trio of fast and fairly useful strikers who were to cause problems all afternoon.
The first decent chance went the way of Imortal, Pelé turned well on the edge of the area but his shot was deflected for a corner. A little bit of pressure followed, with four corners in about two minutes but nothing came of them. The fourth corner, pictured below, was just too high and fast for the attackers - Imortal were playing in their white shirts.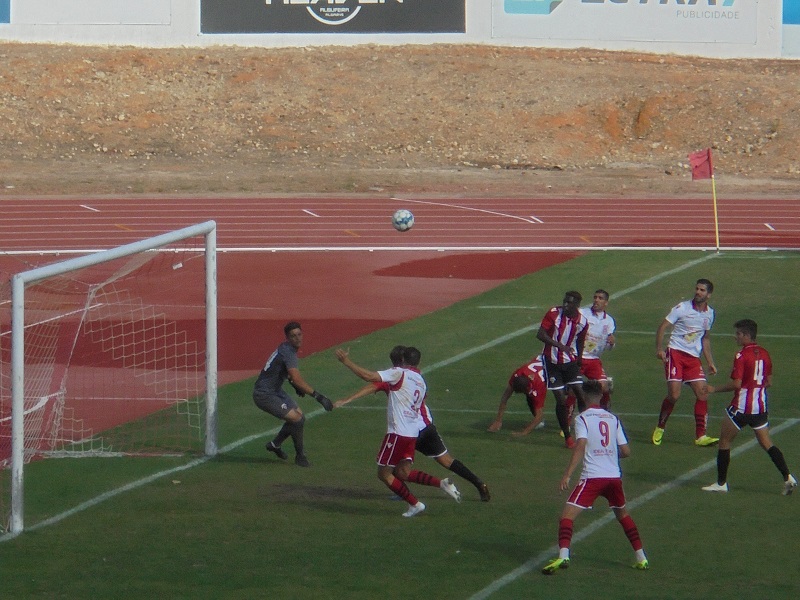 Louletano went ahead after 18 minutes. A woeful attempt at a back-header by Mamadu Baldé fell nicely for an opponent standing behind him. He made no mistake with a fierce shot from ten metres out.
Imortal created several more half chances, Rodrigues headed just wide in the best of them. Meanwhile defenders were working hard, in particular Tidjane Baldé who was twice left on the grass after thunderous midfield 50/50 challenges. Striker Bruno Pereira also went down hard in his own area while assisting in defence. I made a note that two foul throws were given in the first half, one against each team. That's two more than I think I saw in all the games I have watched over the past year or so! Most unusual.
The second half began with another mistake in the home defence but luckily 'keeper David was on hand to make a great blocking save, Rodrigues hacked the rebound to safety.
Imortal applied the pressure, the play was all down at the visitors end but their defence was solid. Various appeals for penalties were turned down, one by Tidjane looked to be a poor decision by the referee, who was increasingly annoying both teams with his decisions or lack of them. Tidjane was booked.
Midway through the half Imortal brought on Cascalvo, who made an almost immediate impact. Known for his dead ball skills, a free kick from 25 metres was blocked by an arm in the defensive wall. Penalty, no doubt, and little protest for once.
Umaro Baldé strikes the blow, while Elvis (number 15) is obviously confident he won't have to try for a rebound!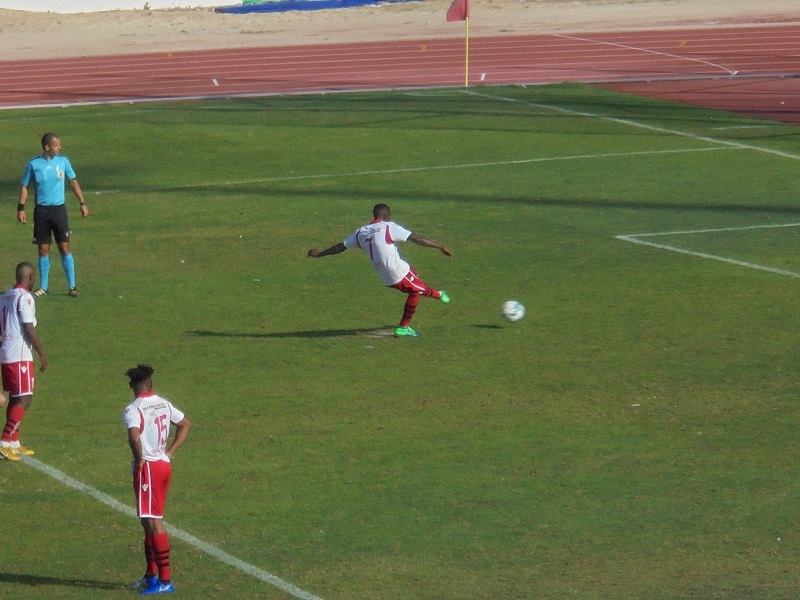 It all then started to get a bit agitated. Having already been booked, Tidjane was incensed to receive a second yellow for apparently not retreating at a free kick. Happy he was not and had to be almost dragged from the pitch.
Louletano's defence was still being stretched by the ten men when, seven minutes before the end of normal time, some very smart work down the left by Mamadu Baldé put Cascalvo in with a run on goal. He was hacked down, obvious penalty and a yellow card for the defender. After the customary minute of argument, up stepped Umaro Baldé once more to plant a good penalty into the corner. ´Keeper went the right way but couldn't get down fast enough.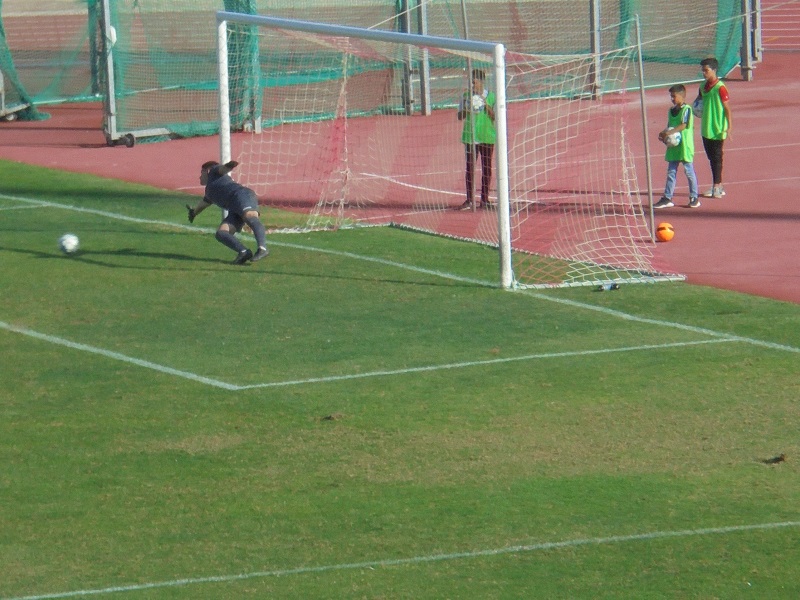 Imortal then had to to defend stoutly, the big boot up the field was the order of the day. Five minutes added time was shown, which became seven as things started to get a bit tetchy. Various confrontations interrupted play, one took place in front of the visitors bench which ended up with their coach being sent off and much pointing of fingers between various players. Cascalvo and Imortal's ´keeper David in particular looked they were ready to whack someone.
The final whistle blew, much to the relief of the 100 or so fans. Imortal go up to 8th of 12 teams.
Imortal's next game is also at home, Saturday 19th October and the visitors will be Quarteira SC.
Match stats
Free kicks conceded : Imortal 14, Louletano 10 plus the two penalties.
Offside : Imortal 8, Louletano 5
Shots on target : Imortal 2 (the penalties), Louletano 2
Shots off target : Imortal 5, Louletano 4
Shots blocked : Imortal 5, Louletano 1
Corners : Imortal 4, Louletano 7
Yellow cards : Imortal 3, Louletano 2
Red cards : Imortal 1, Louletano 1