LAST WEEKEND'S RESULTS NEXT WEEK'S GAMESLiga NOS
Portimonense 1 - 1 Moreirense att 2493. Portimonense remain next to bottom with 15 points from 21 games and thus in the relegation zone. Significantly, there is a six point gap between them and Belenseses in 15th place. The bottom three are cut adrift as it were. And there can be no hope for Portimonense to pick up any points in their next game. That will be away to FC Porto next Sunday night, 830pm kickoff. (Why don't the English Premier League play at 8pm on a Sunday night? That way another game can be live on TV.)
Liga PRO
Farense 3 - 1 Oliveirense att 3889. A welcome win for Farense, who are in second place on 41 points behind Nacional who have 43. Their next game will be on Friday night, away at Villafranquensa (based in the central town of Rio Maior) and followed on the 29th by yet another Saturday morning game demanded by TV.
Campeonato de Portugal group D
Results and fixtures for Algarve teams
Louletano 1 - 0 Sintrense
Real SC 3 - 0 Armacanenses
Lagos 2 -1 Olhanense
That defeat drops Olhanense to second place and they are now only two points clear of Alverca and Louletano, third and fourth respectively. Lagos rise to 10th while Armacanenses fall to 11th.
Next Sunday in the Algarve, both at 1500hrs / 3pm
Olhanense v Club Sintra Football
Armancanenses v Aljustrelense
Lagos and Louletano will be away.
ALGARVE LEAGUE DIVISION ONE FIRST PHASE
Quarteira 1 - 2 Culatrense
Imortal Albufeira 1 - 0 Moncarapachense
Louletano B 2 - 2 Ferreiras
Silves 4 - 1 Almancil
Guia 0 - 2 Lagoa
11 Esperanças 4 - 1 Lusitano VRSA
There are three games to go in the first phase, when the league splits into two groups of six for the second phase.
League table -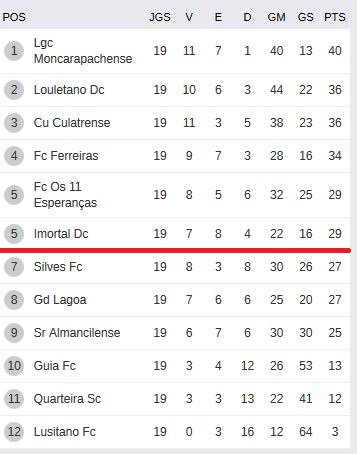 Next Saturday allegedly at 1500hrs / 3pm
Lusitano VRSA v Silves
Moncarapachense v Guia
Lagoa v Cultarense
11 Esperanças v Quarteira at Penha, Faro
Ferreiras v Imortal Albufeira
Almancil v Louletano B
ALGARVE LEAGUE DIVISION TWO
Carvoeiro United 2 - 3 Campinese
Mentes Desporto 1 -1 Sambrasense
Quarteirense 4 - 0 Paderne
Quarteirense 1937 0 - 0 Messinense
Sharks United 0 - 3 Internacional Almancil
Odiáxere 4 -1 Marítimo Olhanense apparently played on Sunday
4 ao Cubo v Ass. Farense postponed, reason unknown.
Ass. Farense lead the way with 42 points then come Messinense with 33 then Quarteirense 1937 and Odiáxere both with 30.
Sharks United were fined only €180 at last week's disciplinary meeting. Lofters reported from their game on Saturday " Sharks overall weren't as bad as I had expected ….. averaging 5 per game conceded they sturdily hung on to 0-1 until the last ten minutes. Even created one or two nearly moments.
They had a few booked plus one sent off [together with one of Almancil´s], so the Euros will be charged. If they get charged for an unfilled bench I suspect that might have been the case too.
They don't lack for effort but are disorganised for the level they are playing at. Not much up front as befits their record and they had a tendency at times to tackle each other rather than the oppo. Remind me a bit of how Mentes were a few seasons back.
There were a few supporters for each team in that stand. By the end they were at each other incessantly ….. has to be said the worst were screaming women. There was an immaculately dressed chap wandering to and fro, supporting the Sharks …… he kept quiet but when the goals went in he was obviously livid ….. my money would be on him being the bankroll man."
Sharks seem to have no registered coach nor bench staff, basically a load of blokes turning up just to play. Most of their fines are for late paperwork etc but they are often late turning up, they use unregistered players and at least three times have not turned up at all.
Earlier Mentes Desporto were denied a rare win by a last minute penalty. More sendings off and bookings there to read about next Friday morning.
Next Saturday's fixtures
Carvoeiro United v Sharks United at Estombar ko 1500hrs / 3pm
Ass Farense v Odiáxere at Penha, ko 1715hrs / 5.15pm
Marítimo Olhanense v Quarteirense ko 1715hrs at Olhão Municipal Stadium
The rest of the games are at 1800hrs / 6pm
Campinense v Quarteirense 1937 at Loulé Municipal Stadium
Messinense v Mentes Desporto
Paderne v Internacional Almancil
Sambrasense v 4 ao Cubo
ALGARVE CUP SECOND ROUND
Wednesday 19th at 2030hrs really clever to have them on a Champions League night
Cularense v Ass Farense venue unknown - not shown on either official website!
ALGARVE CUP QUARTER FINALS
Wednesday 19th at 2030hrs
Louletano v Carvoeiro United at Loulé Municipal Stadium
Moncarapachense v Ferreiras
Lagos v Mentes Desporto
The winner of the delayed second round tie will be at home to Armacanenses on 4th March.
WOMEN'S FOOTBALL NATIONAL LEAGUE DIVISION TWO GROUP H
Final games of the first phase will be played next Saturday for some mysterious reason. Guia will be away.