Updated 8th January 2022. Changes highlighted in bold.

I have marked some places with a **. These were closed at the time of my passing, between 11 and 1130. I saw no signs and at this time it's not possible to say whether closure is short term, long term or permanent.

Top level - ie the road. The Orada apartments are directly behind this row of shops.
West to east ie from the roundabout going towards town.
1 - empty
2 - Algar Opportunity Property Management
3 and 4 - empty
5 - Algarve Hiddden Gems Holiday rentals
6 - empty

7 - Beauty Respect ladies hairdresser
8 - 11 - Urban Sky Group estate agents

12 – Raiana Melo Ladies hair
13 – empty
14 - Villa MArket estate agents
15 - 21 empty

22 - Alex barber shop
23 - Momentos Intuitioius ** (Shop front gives no clues as to its business!)
24 - The Art of Tattoo
25 - empty

26 - 27 Tabacaria/café blá blá blá (that's its name!). Sells English and other newspapers
28 - Pharma(cy) Health Marina
29 - Corte-me o Pèlo - pet grooming
30 - empty
31 - Fat Cats ticket shop
32 - ATM Multibanco
33 and 34 Orada Apartments reception
35 - Garvetur Travel Agents
36 to 40 - Meu Super(market) 0730 to 1930 winter, open until 2200 April to end October. ATM there also
41 - empty
42 - Direct Homes Holiday Rentals **
43 - 56 empty EXCEPT FOR
53 - empty (the minimarket has closed down)

57 - Europa car, scooter and bike hire

Taxi rank is just beyond here
LOWER LEVEL ie by the water


These are not numbered in the same way as the upper level so I have gone by doorways. Again, west to east going towards the town and sea. This is a pedestrian zone.
All the bars and cafés now have free wifi for customers. PT wifi is available in the whole area but you need an account. There are several Euronet ATM's down here. USE WITH CAUTION! High commission charges.

There is the public washing machine place, with 2 washers and a drier, under a shelter.
Many of the cafés, bars and restaurants below are not open during winter.
1 and 2 - Small SPAR supermarket 0800 - 2000 every day has Euronet ATM. DO NOT USE with a £ card!
3 - NIKAIA Restaurant, Mediterranean Soul Kitchen

4 - Sharky's Bar

5 - Luxury Fitness Boutique and gym
6 - Elite Lashes Eyelash extensions
7 - Fat Cats (bar) at the Marina
8 - Burger Mio
9 and 10 - No Solo Italian Restaurant
Entrance to marina car park and karting area - karting website
http://www.algarvekarting.com
11 - "The Cake Shop"

12 and 13- empty

14 - 15 -
Wine and Sushi - Japanese eatery
16 to 20 - Algarve Ten Pin Bowling
http://www.algarvebowling.com/
'Strikers Bar' and Euronet ATM
21 - Pica da Brasa takeaway NEW
22 - Agua y Sal Mexican Grill may be open in the evenings
23 to 25– 'Jack's Irish Pub'
26 and 27 - Tasca Portuguesa restaurant
28 - Belize Sports Bar and Café, Belize boat trip sales
between 28 and 29 is now a Euronet ATM
29 - Algar Experience Boat trips shop
31 – TANGO - A shop selling hats, baskets and stuff
32 - El Barrio Tapas and Cocktails
33 - Contra Mestre bar restaurant
34 - Café Gazetto restaurant
35 - Seacre Tours boat trips and kayak rental
36 - Easydivers Dive Centre diving shop
37 and 38 - Paragrafo bar
39 - empty then another entrance to parking, karting etc, also toilets.
38 - Gate 4 café/bar seems to be closed
39 - seems to be empty despite sign on the front for Algarve Boat Charters.
40 to 42 - Pippa's Fun Bike, scooter and Segway rental, Pipa's park children's play area (not free!) Pippa's bowling (2 short lanes) and across the open space are all the stands of the various marine excursion companies.

On the corner is the boarding point for many of the boat trips.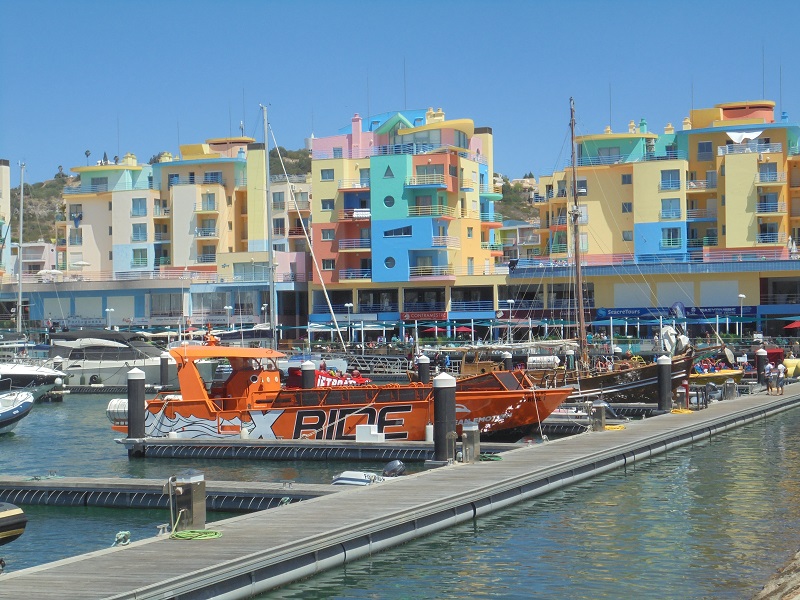 Other Supermarkets near the marina area
Nearest – Intermarché, open 0830 – 2000 every day except 25th December and 1st January.
A few minutes uphill walk. Other, larger, stores are 2 - 3km distant in town. Map at http://www.algarvebus.info/images/roundabouts.jpg – the marina area is at the bottom left.
TRANSPORT

TAXI RANK – LOCATED AT THE TOP LEVEL NEAR THE MINIMARKET. IF NO TAXIS THERE, CALL (+351) 289 583 230
BUS SERVICE FROM MARINA INTO OLD TOWN, CÂMARA (Town Hall) and main Bus Station
Last buses are two hours later ie 2130hrs from June to end September. Last bus from old town to marina is 1915 hrs winter, 2115 hrs summer.
Weekdays 0730 – 1930 every 30 minutes
Saturdays 0730 – 1430 every 30 minutes then at 30 minutes past each hour until until 1930

Sundays and Holidays 0730 – 1930 (winter) 2130 (summer) every 60 minutes
Fare for any journey is €1,40 cash on board, 80 cents with prepaid pass. Day pass €4, buy from driver. Tickets are valid 1 hour and can be used to change to other GIRO buses and thus get almost anywhere in town.
Stop location – on the wide road just around the corner from the fountain.
Map - http://www.algarvebus.info/images/Varzea-da-Orada.JPG

More information www.algarvebus.info/004r.htm

BUSES TO OTHER PLACES
These pass through the marina area and now stop there, at the same place as the GIRO buses. Bus service is still very limited with almost nothing at weekends.
Timetables - Route 75 to Galé, Salgados, Vale de Parra and Guia at www.algarvebus.info/030.htm
Route 13 to Armação de Pêra, Porches, Lagoa and Portimão at www.algarvebus.info/002w.htm

(Times for those buses two minutes later than the time at Avenida do Ténis, although in my experience these buses often don't keep to time anyway.)

To go anywhere else, you must first go to the main bus station in town.

TUK TUKS

Tuk-tuks line up at the eastern entrance to the marina, where the road swings around towards the fishing harbour, ready for gullible tourists who think they work like taxis.

BOAT TRIPS
A few were operating with limited capacity, mask wearing compulsory and booking often required. None operating so far as I could tell on 8th Janaury 2022.

This list may not be 100%, but here are several companies operating boat trips etc from Albufeira marina. Most operate only in summer eg May to October. Reservation is now required for some trips and is always a good idea as trips are often full. You can do this on line at some companies, at one of the ticket shops dotted around town or down at the marina itself.

There is a row of booths at the seaward end of the marina.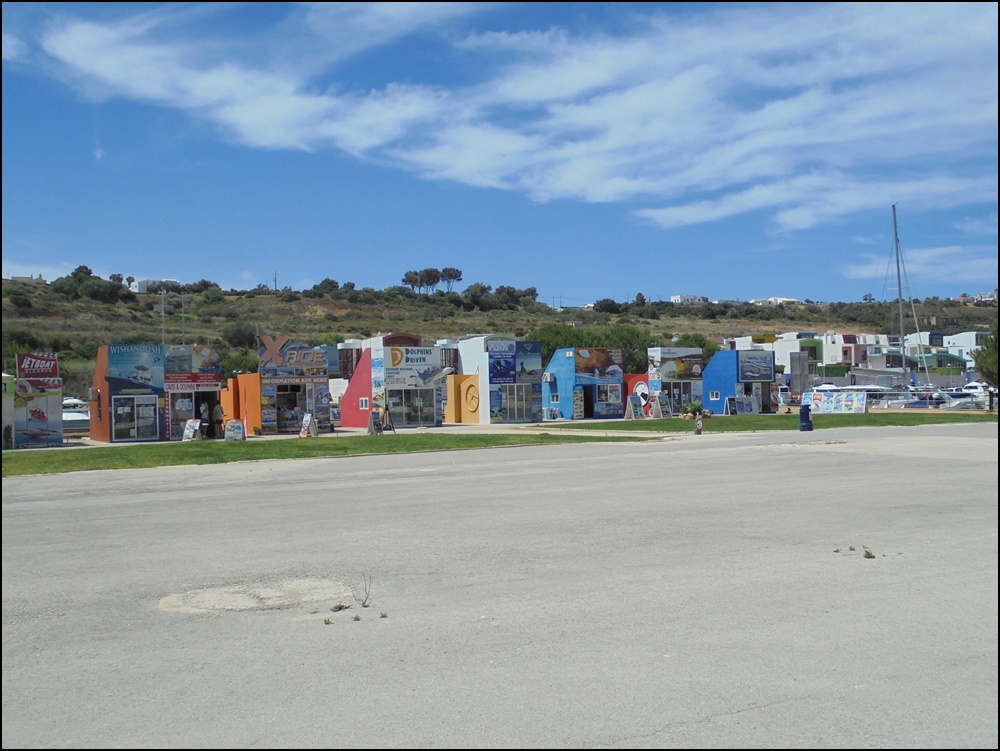 Grouped by type of activity as per the various leaflets etc I collected.
Cruise and Sailing - I have checked the links to websites and have removed one that did not work. Two operators have new websites, links updated.



www.algarvecharters.com - you can charter a boat for a day or half day. Yacht Finismar.
www.algarve-cruises.com – Yacht Amorita
www.dreamwavealgarve.com – Leãozinho 'Pirate Ship'.
Jetboat Algarve - very fast ride!
Oceaneye - http://oceaneyealgarve.pt/ - glass bottomed boat
Caves and Coastline

www.algarve-cruises.com – Yacht Amorita
Boat Alzirinha - find on Facebook



Parasailing and Jet ski-ing

www.algarexperience.com
www.dreamwavealgarve.com

Fishing trips

www.algarexperience.com

www.algarveboatcruises.com/
Yacht Bachelor – Facebook page, no website.

Beach Barbeque

www.algarexperience.com

Dolphins search (no guarantees you will actually see one!)

www.algarexperience.com
www.dolphins.pt – blocked by my firewall May 2021

Their boat
www.dreamwavealgarve.com – cruiser Dreamer 1

http://www.algarveboatcruises.com/
http://www.seacret-tours.com

Jet Boat / high speed rides

http://www.algarveboatcruises.com/
JetBoatAlgarve

I hope this will help future visitors.